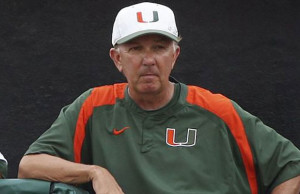 The 2017 season ended in disappointment for the Miami Hurricanes, as their 44-year postseason appearance streak came to an end after a 31-27 campaign. There's no doubt that the holdovers from that team are going stir crazy this offseason waiting to step back on the field to turn over a new leaf, but that level of anticipation likely pales in comparison to the eagerness felt by head coach Jim Morris to get things going in 2018.
For one, he hasn't done very much losing in his career at Miami, so 2017 couldn't have been easy to swallow, but beyond that, 2018 is also going to be his last season at the helm after 25 years on the job.
Actually, to say he hasn't done very much losing at Miami is a gross understatement that might actually be disrespectful to all other gross understatements. After taking the job prior to the 1994 season, he led his team to the College World Series in his first six seasons, capped by a national title in 1999. Going a step further, he took the Canes to Omaha in all but two of his first 11 seasons, including another national championship in 2001. All told, he has won 1,062 games at Miami, compared to just 446 losses and three ties.
That's to say nothing of what he accomplished as the head coach at Georgia Tech prior to moving to Coral Gables. In 12 years, he led the Yellow Jackets to a 504-244-1 record, and once he got the ball rolling there, the success of the program really snowballed. After missing out on the postseason in his first three seasons in Atlanta, he got his team into a regional nine consecutive times.
His best work, however, might have come in recent seasons at Miami.
After the UM program's dominance continued into the late-2000s, culminating with a 53-11 ACC championship season and College World Series appearance in 2008, the level of play dipped a little bit. After annually winning 40 or more games, the Canes collected less than 40 wins four of the next five seasons after 2008. Worse yet, their conference record dipped to 16-14 in 2012 and 14-16 in 2013. Sure, they made regionals each time and most every other program in America would have been happy with those results, but this is Miami we're talking about. For that program, not getting to Omaha and sinking to the middle of the pack in the ACC was unacceptable.
But they rebounded. From 2014 to 2016, they won 44 or more games each season and made CWS appearances in 2015 and 2016 as part of 50-win seasons, all the while producing high draft picks like Dale Carey, Chris Diaz, Andrew Suarez, George Iskenderian, David Thompson Bryan Garcia, Willie Abreu, and most notably, Zack Collins, a 2016 first-round pick of the Chicago White Sox.
In the modern world of college athletics, we are very quick to write a coach or a program off at the first sign of a drop in the quality of play, so it was refreshing to see Morris get it turned around.
Now, after this coming season, he'll hand the reins over to assistant coach Gino DiMare. With a short three year hiatus between 2008 and 2011, DiMare will have been assistant at UM for 19 total seasons, and as recruiting coordinator, he was instrumental in putting together the rosters that got Miami back to Omaha in '15 and '16. For those reasons, among others, he seems like a natural fit for the position.
But first, Morris has some unfinished business. There are still some questions that need to be answered before the Canes take the field in Miami, but it seems like a safe bet that they'll have something of a bounce back season. There's simply too much talent on the roster and too much pride in the program for 2017 to be repeated in 2018.
It also seems like a safe bet that no one will want to see that turnaround more than Jim Morris before the sun sets on his outstanding career at UM.