After an offseason that seemed just short of excruciatingly long, the college baseball season is finally here. Even better, the 2015 season wastes no time in giving us some tantalizing non-conference matchups to sink our teeth into. There are a couple of marquee series involving teams that are ranked in a number of polls, others that could end in up in upsets for highly-ranked teams, and still others between under-the-radar teams that are worth following closely.
There is a lot to get to, so let's get on with it.
Headliners
(6) Texas Longhorns vs. (16) Rice Owls

There are teams in college baseball that can be criticized for their weak non-conference scheduling, but Texas and Rice are not two of those teams, as evidenced by this four-game series set to take place at Reckling Park in Houston.
Rice is looking for impact bats on offense to complement John Clay Reeves in the lineup. They'll look to guys like Leon Byrd, Ford Stainback, and Kirby Taylor to step into bigger roles, and newcomers like Ryan Chandler, Tristan Gray, and Grayson Lewis to contribute right away. They'll all be tested immediately against a Texas pitching staff that returns veteran hurlers like Parker French, Chad Hollingsworth, and Travis Duke.
The Longhorn offense is more settled, with a number of returnees (and exciting newcomers like R-Fr. Bret Boswell). The Rice pitching staff should be more than game, however, as they will throw Kevin McCanna, Blake Fox, talented freshman Ricardo Salinas, and Austin Orewiler at the Longhorns. The Rice staff has already been dealt a bit of a blow, though, as Jon Duplantier will miss his scheduled start this weekend after suffering from arm soreness. Rice has enough depth that Duplantier's absence can be overcome in the short term, but make no mistake; he is a big part of the Owls' plans this season.
Obviously, TCU, Houston, and Texas Tech will have something to say about this before it's all said and done, but if one of these two teams can win three out of four or manage a sweep, they will have the pole position on being the top team in the state for 2015.
(8) Oklahoma State Cowboys vs. (14) Arizona State Sun Devils

For an in-depth look at this matchup as part of his Bracket Impact series, check out Mark West's preview here.
Notables
(1) LSU Tigers vs. Kansas Jayhawks

The LSU Tigers come into the season with high expectations once again, and this year, much of that optimism has to do with what they have returning in the lineup rather than what they bring back on the mound. Alex Bregman is the headliner, but there are a number of solid contributors around him that should provide him with ample support.
Kansas made a return to the regionals last season, and while they lost a few key pieces from that team, plenty returns for this group to make another postseason run, most notably solid bats Michael Tinsley and Dakota Smith, along with closer Stephen Villines.
The Tigers will lean on a young rotation, as they plan on starting two freshman, Alex Lange and Jake Godfrey, and a sophomore, Jared Poche', on the mound. If the Jayhawks can capitalize on any debut jitters for either of the two freshmen, the Jayhawks could be upset-minded.
Of course, the Jayhawks will run out a similarly unproven, if not as young, rotation this weekend. Friday's starter, senior Drew Morovick won 10 games and had an even 5.00 ERA last season, but this will be his first foray into leading a staff. Saturday starter Ben Krauth, a transfer from Diablo Valley College, will be throwing in his first Division I game, and Sunday starter Sean Rackoski threw just 1.2 innings last season.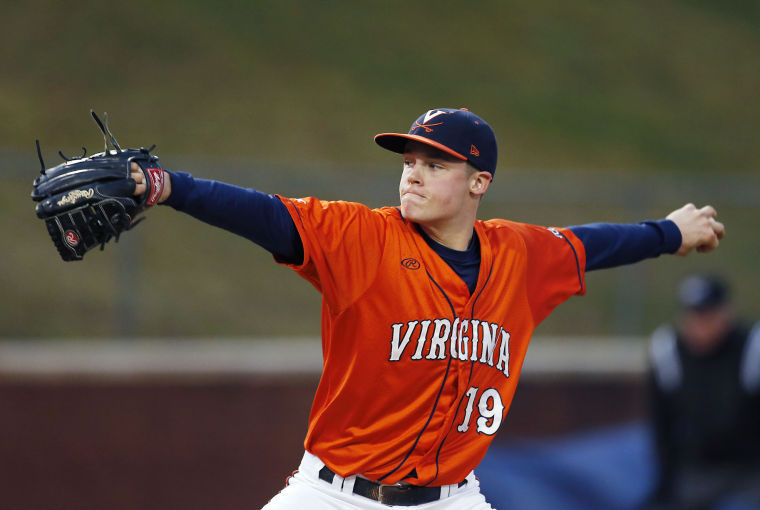 (2) Virginia Cavaliers vs. East Carolina Pirates

Much has been said about the Cavaliers heading into this season and understandably so. They are loaded once again, and even the loss of top hitter Joe McCarthy for much of the season shouldn't slow them down too much. A pitching staff that includes Nathan Kirby, Brandon Waddell, and closer Josh Sborz is going to be tough for teams to top.
The Pirates made an inspiring hire in the offseason when they brought in former letterman Cliff Godwin, but with a lot of roster turnover after last season, it's probably unrealistic for his squad to be prepared to go toe-to-toe with Virginia right out of the gate. Still, with all of the new faces they are going to be breaking in, a tough series to start the season is a good way to find out what they have in some of their youngsters.
If the Pirates are going to compete with the Cavaliers, their pitching staff needs to take advantage of a UVA offense that was already dealing with heavy personnel losses and now will be without McCarthy. Those chances, however, were dealt a blow this week, as Reid Love, their projected Friday starter, will miss his start due to a hand injury.
In any event, this will be a nice measuring stick for both teams. ECU has talent, so UVA will be pushed a little bit, and the Cavaliers will provide a nice challenge for Godwin's young Pirates.
(17) Cal Poly Mustangs vs. Baylor Bears

Both of these teams come into the 2015 season looking to prove a point. The Mustangs are looking to prove that 2014 was not an aberration and that they are here to stay as a top program. Baylor, on the other hand, is looking to prove that 2014 was an aberration and that they will just as soon return to the ranks of the elite programs in the Big 12.
Perhaps Baylor doesn't need to come out and win this series, but at the very least, they need to come out and play Cal Poly close. They do have the talent to do so. Austin Stone and Daniel Castano are both more than capable of going out there and shutting down the opposition, and Adam Toth is the type of do-everything player that can dominate a series if he gets it going.
Cal Poly will counter with Casey Bloomquist and Justin Calomeni at the front of their rotation, which should make for some fun pitching matchups in this series. At the plate, Zach Zehner, who spurned pro ball in favor of a return to San Luis Obispo, is the offensive player to watch for the Mustangs.
One series does not a season make, but no matter who wins this series, the victor should feel very good that it is a huge step in proving their respective point.
(24) South Carolina Gamecocks vs. College of Charleston Cougars

Kudos to the Gamecocks for challenging themselves in non-conference play, as the Cougars are a team that not only will be battle-tested and ready to play on the road in a hostile environment, but will also bring the type of talent that could pull an upset.
The Gamecocks are known for throwing quality pitchers out there year and year, and this year is no different. Wil Crowe and Jack Wynkoop are an experienced one-two punch in the rotation, Taylor Widener looks ready to take on a bigger role as a weekend starter, and Cody Mincey has shown all of the signs of being ready to take the baton in the long line of lock-down South Carolina closers. C of C was offensively challenged at times last season. Against this pitching staff, they may not be able to afford a slow start.
Of course, the Cougars have their fair share of pitching to throw around, and it can be argued that they have better top-end talent in their rotation. Taylor Clarke is good enough to go toe-to-toe with anyone, and Bailey Ober is even better. However, due to a setback that occured sometime in January, Ober is not going to be able to make his start in this series, although head coach Monte Lee did mention that he could be available to pitch out of the bullpen.
Either way, don't expect these two teams to light up the scoreboard this weekend.
Nebraska Cornhuskers vs. UNLV Rebels

While this series might not have the star power of some of the others, this is a nice series between two up-and-coming programs that experienced big breakthroughs in 2014.
Both boast balanced teams that keep them from being overly reliant on any one phase of the game. UNLV features a couple of reliable starters in Bryan Bonnell and Kenny Oakley, to go along with a deep lineup featuring returnees Morgan Stotts, Joey Armstrong, Edgar Montes, Joey Swanner, Erik Van Meetren, and A.J. Hernandez. If nothing else, they have the market cornered on guys named Joey, and that's something.
Much the same, the Cornhuskers are led by solid starting pitchers Chance Sinclair and Kyle Kubat, but they do have an edge on offense, at least in terms of top-flight talent. Center fielder Ryan Boldt has the potential to be the best player in the Big Ten and he's already considered a bona fide blue-chip prospect for the 2016 MLB draft. If this series proves to be offense-centric, Boldt is the type of guy that can wreak havoc on a pitching staff and put the team on his back on the way to a series win.
Tennessee Volunteers vs. FIU Panthers

It's going to be a pivotal season for the Volunteers, as they look to finally break through to the postseason after a decade-long absence. On paper, it appears that they just might have what it takes to get that done. While the gauntlet that is an SEC schedule will provide more of a window into their readiness, their opening-weekend series against the Panthers will give us a good idea of where they stand.
If the Vols are going to step up and play well, both in this series and for the rest of the season, they'll need their largely unproven starting rotation to step up. Friday starter Bret Marks went 3-1 last year with a 6.43 ERA. In his 14 innings of work, he showed a propensity for strikeouts (10), but he also struggled a bit with walks (7). Drake Owenby, Saturday's starter, had a solid 2014 season as a reliever (3.20, 5 SV), but starting on the weekend in the SEC is a different animal. Sunday starter Kyle Serrano (3-3, 4.55) is the most proven and has the highest ceiling of the three, but even he struggled with command in a hybrid role last season (41 BB/40 K in 59.1 IP).
If the Tennessee starters struggle to adjust, FIU has the bats to make them pay. Edwin Rios, a converted second baseman now playing first base, is a legitimate prospect for the next level, and Josh Anderson can provide some thunder in the middle of the order.
On the mound, Chris Mourelle, Cody Crouse, and Robby Kalaf will give head coach Turtle Thomas an experienced rotation to work with. They'll do their best to stymie the Tennessee attack, led by the steady Nick Senzel and the super-talented Christin Stewart, who despite some great numbers from last season (.330 BA, .386 OBP, 19 doubles, 6 triples, 5 HR, 39 RBI), still has many convinced that he has yet to tap into his full potential.
Indiana Hoosiers vs. Stanford Cardinal

There is an assumption that, with all of the talent they lost and the departure of head coach Tracy Smith to Arizona State, that the Hoosiers will take a considerable step back this season. While it's probably inevitable that they will take a step back, how well they acquit themselves in this series will hint at just how big that step is.
With their biggest middle-of-the-order bats (Kyle Schwarber, Sam Travis, Dustin DeMuth) now in pro ball, the Hoosiers will be challenged by an experienced Stanford rotation that features high-level prospect Cal Quantrill and quality lefty John Hochstatter.
To counter, Indiana will lean on Christian Morris, who had a fine season in 2014 behind Joey DeNato in the weekend rotation, and Scott Effross, a converted reliever with plus stuff.
Off the Beaten Path
Tulane Green Wave vs. Pepperdine Waves

Ever since David Pierce took the job down in New Orleans, the Green Wave has looked like a good bounce-back candidate for the 2015 season. This opening series (an all-Waves affair!) against a very good Pepperdine team should shed some light on what we can expect from Tulane for the rest of the season.
Pepperdine lost significant talent from last year's team, most notably superstar two-way player Aaron Brown, starting pitcher Corey Miller, and closer Eric Karch, so the door is open for an upset. The Green Wave will lean heavily on returning starting pitchers Corey Merrill and Alex Massey to keep them in ballgames, and relievers Tim Yandel and Ian Gibaut to close the door on the back end. It will also be interesting to see how well their group of ultra-talented sophomore hitters (Stephen Alemais, Hunter Hope, Jake Rogers) play right out of the gate.
Of course, that's not to say that Pepperdine has been left with a bare cupboard. Hutton Moyer, Aaron Barnett, Brandon Caruso, and Brad Anderson form a strong offensive nucleus. Tulane's offense, despite all of the then-freshman talent, struggled mightily last season and this Pepperdine group figures to produce enough offense over the course of the weekend that it will force that embattled group to step up and produce.
Sam Houston State Bearkats vs. Wichita State Shockers

Turnover was the name of the game for these two teams in the offseason. Wichita State is now a team almost completely made up of head coach Todd Butler's guys, as the roster turnover this offseason was substantial. Certainly, players like Casey Gillaspie, Chase Simpson, and staff co-aces A.J. Ladwig and Cale Elam will be missed, but on the other hand, it finally feels like the Butler era can officially begin. Sam Houston State didn't suffer quite the same amount of turnover, but key offensive pieces Anthony Azar, Corey Toups, and Ryan O'Hearn, along with pitchers Jason Simms and Tyler Eppler, are gone. They're also breaking in a new coach, of course, as Matt Deggs takes over for the aforementioned David Pierce.
Ultimately, these two teams feel very similar in terms of their postseason prospects. Both have the talent to be in the postseason, but both could easily be undone by their reliance on unproven players. In this series, the key could be the presence of veterans like Sam Odom, Andrew Godail, Dylan Ebbs, and closer Ryan Brinley on the SHSU pitching staff.
Way Off the Beaten Path
Louisiana Tech Bulldogs vs. Southeastern Louisiana Lions

In the short term, this series should be interesting, as it will pit in-state rival clubs filled with players who know each other well and grew up playing each other in the state of Louisiana. Plus, there will be some talent on display. Tate Scioneaux, SELA's Friday night starter, has the ability to be every bit of the bona fide ace that Andro Cutara was last year for the Lions.
More interesting, however, will be the battle between these two programs in the long term, beyond this series or even this season. These are two programs in very similar situations. They play in similar conferences (thanks to the mass defection of teams out of C-USA), and they likely recruit from the same group of players within the state. Lately, Southeastern Louisiana has been the better of the two programs, but with Greg Goff (formerly of Campbell) taking over the Louisiana Tech program, there is optimism that the balance of power could be shifting in the state.
Bethune-Cookman Wildcats vs. Georgia Southern Eagles

All the Bethune-Cookman program does is win. Outside of the blip on the radar that was their missed postseason in 2013 and a little dip in quality after the departure of Mervyl Melendez to Alabama State, they have been incredibly consistent in recent years. They will have to deal with a lot of roster turnover in 2015, but it wouldn't be smart to bet against them turning in another quality season. Staff ace Keith Zuniga should be fun to watch, if nothing else.
Georgia Southern will deal with their own departures coming off of their postseason appearance and win in the Tallahassee regional against host Florida State. The return of Aaron Mizell on offense and Ryan Frederick and the rubber-armed Jason Richman on the mound will keep them competitive, however.
It is tough to imagine Bethune-Cookman having enough pitching to slow down Mizell and company and the offense to keep up with the Eagles' attack, but they often make a habit of punching above their weight, so they should not be written off.