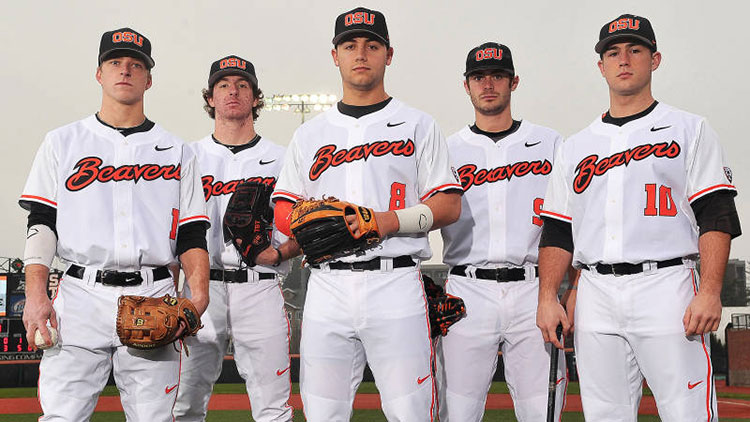 College Baseball Central brings to you its NCAA Division I Top 25 Poll, which will be updated weekly starting on February 18 and through the rest of the 2014 college baseball season. This week's rankings focus on the results and performance from Opening Weekend, as there were a handful of make-up games held on Monday that were not counted towards this respective ranking cycle.
Oregon State headlines this week's rankings, as the Beavers were dominant throughout the weekend in the Husker Classic. The Beavers outscored their opponents by a combined score of 33-16, capping off opening weekend with a 14-6 victory over Pacific (a day after putting up 15 runs against Nebraska). Despite the fact that Ben Wetzler is sidelined due to NCAA eligibility concerns, the pitching staff looked stout over the weekend, as did a momentous offense led by the heavy bat of Michael Conforto, who drove in eight runs over the weekend.
Cal State Fullerton remains at No. 2 after winning its series against Washington State 2-1. The Titans looked smooth on the mound, as Eshelman and Wiest turned in strong outings, while the offense was stout throughout the weekend, scoring a combined 24 runs (including a 12-0 shutout on Friday) against an all-around talented Washington State team.
Virginia climbs to No. 3 after winning its series against Kentucky 2-1. After dropping the season opener on Friday, the Cavaliers bounced back to grab wins on Saturday and Sunday behind impressive pitching performances by Nathan Kirby and Josh Sborz.
Florida State and LSU round out the Top 5 after sweeping their respective opponents this weekend. Big movers include South Carolina (No. 7), Mississippi State (No. 8), and Rice (No. 11), while North Carolina dropped to No. 18 and Indiana dropped to No. 15 after being held to just eight runs over four games by Texas Tech.
The staff of College Baseball Central determines the NCAA Division I Top 25 rankings based on team performance, future outlook based on talent level and projection, and the difficulty level of opponents.
| Team | Win-Loss | Last Week | Previous |
| --- | --- | --- | --- |
| 1. Oregon State | 3-0 | 3-0 | 4 |
| 2. Cal State Fullerton | 2-1 | 2-1 | 2 |
| 3. Virginia | 2-1 | 2-1 | 10 |
| 4. Florida State | 3-0 | 3-0 | 7 |
| 5. LSU | 3-0 | 3-0 | 3 |
| 6. Vanderbilt | 3-0 | 3-0 | 1 |
| 7. South Carolina | 3-0 | 3-0 | 15 |
| 8. Mississippi State | 2-1 | 2-1 | 14 |
| 9. Oregon | 3-0 | 3-0 | 6 |
| 10. UCLA | 2-1 | 2-1 | 12 |
| 11. Rice | 2-1 | 2-1 | 24 |
| 12. NC State | 0-1 | 0-1 | 9 |
| 13. Clemson | 2-1 | 2-1 | 18 |
| 14. Louisville | 2-1 | 2-1 | 8 |
| 15. Indiana | 1-3 | 1-3 | 11 |
| 16. Oklahoma State | 3-0 | 3-0 | 21 |
| 17. Miami | 2-1 | 2-1 | NR |
| 18. North Carolina | 1-1 | 1-1 | 5 |
| 19. Arizona State | 2-1 | 2-1 | 19 |
| 20. Louisiana-Lafayette | 3-1 | 3-1 | NR |
| 21. Cal Poly | 3-0 | 3-0 | 23 |
| 22. TCU | 2-1 | 2-1 | NR |
| 23. Ole Miss | 3-0 | 3-0 | NR |
| 24. Texas A&M | 3-0 | 3-0 | NR |
| 25. Arkansas | 3-0 | 3-0 | 13 |
| Other teams receiving consideration: Alabama, Florida, Kentucky, Texas Tech, Wichita State | | | |