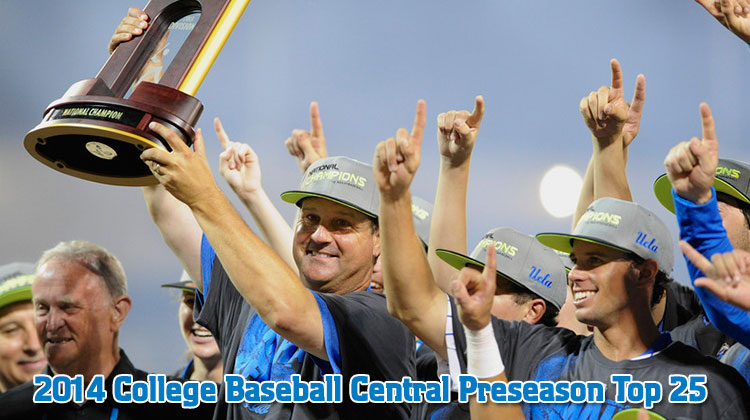 The UCLA Bruins walked away with their first national championship last season, taking the college baseball world by storm with their straightforward, yet effective use of small ball and proving that small ball was indeed big time ball.
Fast forward seven months and we are just over one month removed from the commencement of the college baseball season. As we rapidly approach opening day, a number of questions will await definitive answers, answers that will surely unfold as the season progresses.
Among the burning questions accompanying the start of the season include whether the recent success of UCLA's small ball schema will encourage other programs to adopt a similar style of play, and conversely so, will the changing trend of play force programs and fans alike to pressure a reversion to pre-BBCOR and TD Ameritrade Park-esque style of play?
Will the Bruins have the momentum and firepower to go back-to-back? Will the likes of Vanderbilt, Cal State Fullerton, and Florida State seek redemption and earn a trip to Omaha? As well, which teams will surface as legitimate title contenders and/or surprise dark horses?
With those questions in mind, College Baseball Central has constructed a 2014 Preseason Top 25, highlighting who we feel are the 25 premier programs heading into the 2014 season.
The Vanderbilt Commodores come in atop the list, coming off of an impressive 2013 campaign that saw the Commodores turn in a 26-3 record against SEC competition (a conference record) and narrowly miss Omaha, a result they hope to reverse going forward as they continue their quest for a national championship.
Close behind is Cal State Fullerton, a powerhouse program that was surprisingly upended by UCLA in the Fullerton Super Regional and returns with one of the premier pitching staffs in the country, along with a hard-charging offensive barrage.
Below is our list with links to previews and schedules for each team, which will be updated daily. As the season progresses, be sure to check back each week as we will be updating our Top 25 list.
2014 College Baseball Central Preseason Top 25
2 Cal State Fullerton – Preview
8 Louisville – Preview
15 South Carolina – Preview
16 Kansas State – Preview
17 New Mexico – Preview
19 Arizona State – Preview
20 Seton Hall – Preview
21 Oklahoma State – Preview
Other teams receiving consideration: South Alabama, Mississippi, South Florida, Florida, Texas A&M, Louisiana-Lafayette, Oklahoma, Liberty