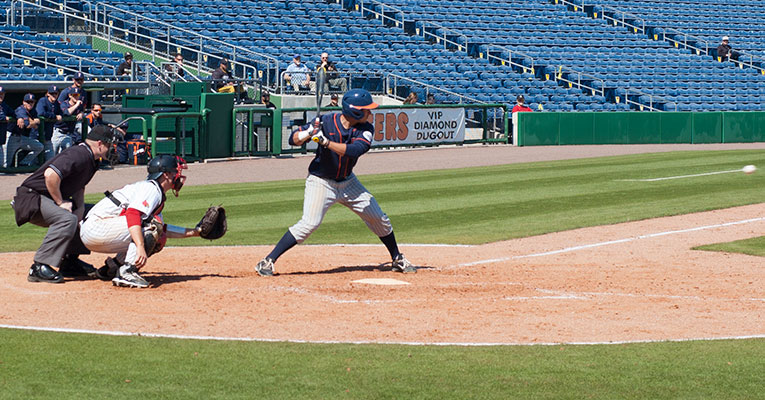 CLEARWATER , FL — No 17 Cal State Fullerton jumped out to a 4-0 lead in the first inning against seventh-ranked Louisville in the Opening Weekend Challenge finale for both teams and held on to score a 8-6 win over the Cardinals at Bright House Field in Clearwater.
Unable to produce much offense in the first two games of the tournament the Titans came out ready to play today and collected nine hits today.
They had seven combined in the first two games.
Sophomore southpaw Josh Rogers took the loss for the Cardinals allowing six runs on eight hits. He struck out four in 4+ innings of work.
'They were ready to hit the fastball in the first and they jumped on him, but he wasn't sharp today. His pitch count got high and we had to go to the bullpen early, He will learn from it." said Louisville head coach Dan McDonnell.
"We like our club, it's like I keep saying don't get too high and don't get too low. This is early in the season, what matters is that we improve throughout the season," added McDonnell.
Freshman John Gavin got the win for the Titans throwing 5 2/3 innings for Cal State.
The Titans took an 8-1 lead into the sixth inning. Louisville would score three runs in the sixth, led by Corey Ray who led off the inning with a towering blast to right field, and two more in the seventh to cut the lead to 8-6.
Maxwell Gibbs and Tyler Peitzmeier, each pitched a shutout inning for the Titans to close the door on Louisville for the win.
Bottom Line
Louisville 
Although McDonald was disappointed with the loss, aren't most coaches after loss, the Cardinals will be force to be reckoned with going forward. A year of experience for Kyle Funkhouser will spell doom for most Friday night opponents. Anthony Kidston and Josh Rogers back him up, and the Cardinals seemingly have a bullpen full of power arms and are able to throw one after another at their opponents.
Did I mention they can hit? Scoring runs traditionally is in a problem for the Cardinals and it won't be in 2015. How about 34 hits in three games? Yes, it's still early, but Louisville is clearly a team worth keeping an eye on.
Cal State Fullerton
After a 1-2 to open the season some fans may have doubts. I am not one of those. The Titans have a pitching staff that will keep them in every game. The question will be can they score enough runs to be there in the end.
It's way too early to predict, but I wouldn't be putting any money against them.