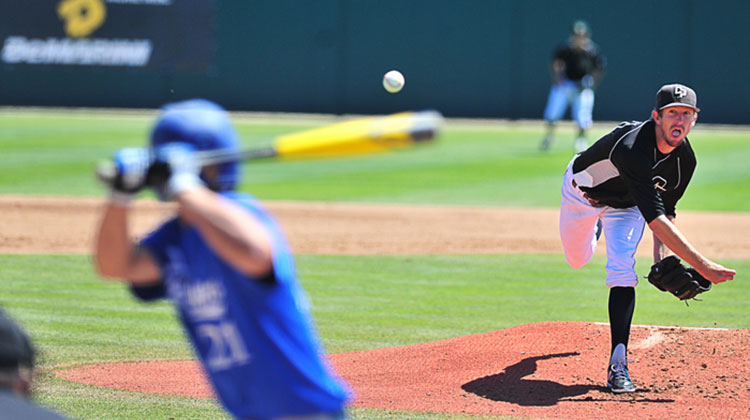 SAN LUIS OBISPO, Calif.—  UC Santa Barbara visited Cal Poly with something to prove. The Gauchos faced three-time Big West Pitcher of the Week Matt Imhof on Friday night and dismantled him. Imhof, the NCBWA National Player of the Week for the second time this season was lit up by UCSB hitters to the tune of five hits and seven runs in just 3.1 innings.
Back-to-back home runs from sophomore designated hitter Robbie Nesovic and junior first baseman Tyler Kuresa scored four runs in the third inning but appeared to have no impact on Imhof's psyche as he retired the next two batters.
Entering the fourth inning was a different story. After a lead-off fly out to center field, Imhof walked the next two batters and gave up a two-RBI double to senior left fielder Joey Epperson before being pulled in favor of Bryan Granger.
Gauchos' starting pitcher Austin Pettibone was equally shelled, giving up eight hits and six runs, including a three-RBI home run from catcher Chris Hoo in the fourth. Junior left hander Greg Mahle relieved Pettibone in the fifth inning and went on to improve his record to 5-1. Tate Dillon came in to pitch in the eighth and earned his seventh save of the season while Cal Poly's Imhof fell to 6-2 with the loss.
Saturday's game was a literal hit parade with the teams combing for 27 hits and burning through nine pitchers en route to a 8-7 Cal Poly victory fueled by a walk-off single by catcher Chris Hoo. The Mustangs jumped all over Gauchos' starting pitcher Robbie Nesovic for five hits and five runs and ran him after only two innings. The Gauchos returned the favor by scoring three runs on starting pitcher Justin Calomeni and three more runs off of his replacement Bryan Granger to take the 6-5 lead.
Cal Poly would take back the lead in the bottom of the fourth on a two-RBI single by Tim Wise. UC Santa Barbara's sophomore shortstop Ryan Clark would even the score in the fifth inning at seven runs apiece and the bats on both side would go dormant for the next four innings. A walk by Ryan Drobny and a sacrifice bunt by Peter Van Gansen followed by the the single by Hoo ended the game in walk-off fashion in the bottom of the ninth for the Mustangs, evening the series and setting up the rubber game on Sunday.
The only proper way to follow up a hitter's paradise game is with a pitcher's duel and Sunday's game was a study in defensive prowess. Cal Poly's sophomore right-hander Casey Bloomquist was dominant through 7.2 scoreless innings, fanning 10 batters en route to a Big West-best seven victories. Bloomquist's 7-0 is tied for second best in Division I baseball behind East Carolina's Ryan Williams' 8-1 record.
UC Santa Barbara's freshman righty Shane Bieber allowed only one hit through 3.2 innings but surrendered a single and an RBI-triple to Jimmy Allen that proved to be the winning run.
Cal Poly baseball moved to 26-5 on the season and 6-1 in the Big West baseball Conference while UC Santa Barbara dropped to 20-7 and 2-4 in conference play. Nest up for the Mustangs is a Tuesday game hosting St. Mary's before to travel to Hawai'i to take on the Rainbow Warriors (14-16, 2-4 Big West). UC Santa Barbara will face another nationally-ranked team when it welcomes Cal State Fullerton (16-11, 2-1 Big West) this weekend in Santa Barbara.