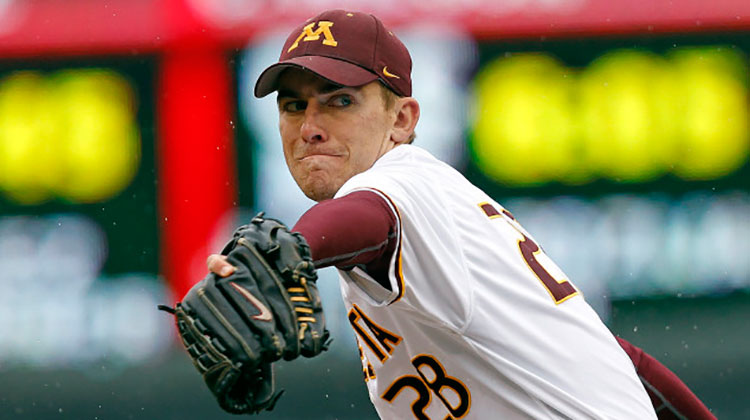 RUSTON, La. — Minnesota (6-3) put in a great day on the diamond defeating Louisiana Tech (3-6) by a score of 6-1 thanks to a big day from junior Ben Meyer who gave up only two hits in seven frames in Ruston, La., Sunday.
On a commanding display of mound dominance Meyer sat the Bulldogs batters down in order all but the second inning. He allowed only one run on two hits and a walk in that frame. Meyer rang up four batters for the duration of the lengthiest start for any Gopher hurler so far this year.
The first three runs got chalked up by Minnesota in the second inning when RF Bobby Juan reached on an infield base hit followed up by shortstop Michael Handel's single and catcher Austin Athmann's walk. That set the table for LF Tony Skjefte to crank a double and send Juan and Handel home.
CF Matt Fiedler unwrapped the third inning with a leadoff double and was then knocked home by a single from third baseman Mark Tatera for yet another Gopher run.
Louisiana Tech managed to muster only one run that came in the bottom of the third, when Taylor Nichols smacked an infield single, and moved to third, on Thomas Simoneaux's two-bagger. Colby Johnson's sacrifice fly let Nichols tag up to cut the lead to 3-1.
Things went dormant for both clubs while waiting for Minnesota's three-run explosion in the ninth. Athmann got drilled with a beanball then moved up after a Jake Bergren sacrifice bunt. Connor Schaefbauer was then intentionally walked and Jordan Smith, in a pinch hit situation, drove in Athmann with a double. A base hit by first baseman Dan Olinger scored Schaefbauer and Chris Schaaf popped a sac fly to bring home Smith.
Schaefbauer score carded a 2-for-4 outing in Sunday's contest and went 6-for-12 in the series. He stole five bases total during the weekend, together with two on Sunday.
Lance Thonvold tossed the final two frames and netted a save for the Gophers, whereas Meyer contracted his first win of the year. Starter Jared Keating acquired the loss for Louisiana Tech.
Minnesota will go to Myrtle Beach for Coastal Carolina's Chanticleer Classic March 7-9.