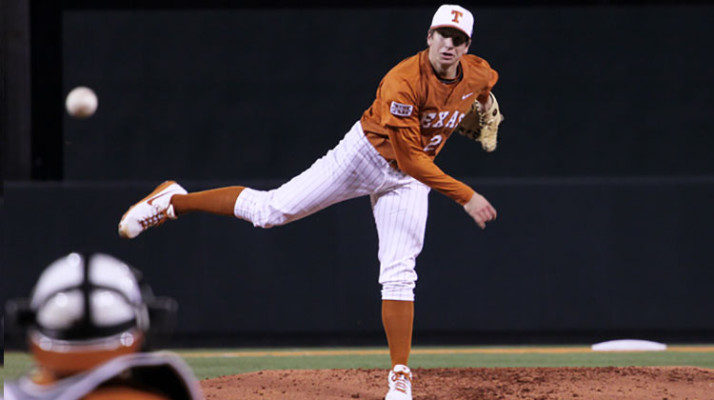 LUBBOCK, TX. Game two of the Austin Super Regional was a simple story of one team that executed when opportunities were presented and one team that did not. Early on, both starting pitchers looked pretty good. Texas' Parker French and Houston's Aaron Garza traded zeroes through three innings and we were cruising along.
But the Cougars were the first team to blink. UT's Ben Johnson led off the inning with a rope to left field. UH left fielder Michael Pyeatt looked to have a beat on it, but it bounced off his glove and Johnson pulled into second with a double. Mark Payton followed with a walk, and then you knew it was probably UT's inning when Tres Barrera laid down a sac bunt so good that he made it safely to first without a throw.
After recording one out, Garza gave up a single to C.J. Hinojosa, scoring two runs. Collin Shaw followed with a sac fly to make it 3-0 and Kacy Clemens singled home a run with two outs to make it 4-0.
Other than that fourth inning, the UT offense was pretty pedestrian all day. But they took advantage of the one opportunity they were presented with in a big way.
UH's offense, on the other hand, was pretty decent. They ended up putting up ten hits total and several others reached on free passes. They had leadoff runners on base quite a bit and it seemed like they constantly had traffic all over the bases. But the big hit never came. The final score ended up being 4-0. That one inning made all the difference.
For the Longhorns, the offensive production they got was spread out among everyone. Seven UT players had hits and only Hinojosa had two or more. The UT shortstop added two RBI and a run scored to his two hits.
None of the pitchers they used were particularly dominating, but they were all effective in the end. Starter Parker French threw six innings, giving up five hits and no runs. Travis Duke threw 1.2 innings, giving up three hits but no runs, Morgan Cooper threw a third of an inning to finish the eighth, giving up a hit along the way, and John Curtiss came in and threw a scoreless ninth, giving up two hits.
Although their offense really couldn't do anything with the opportunity, the UH bullpen kept their team in the game. Jared Robinson, the hero of the Baton Rouge regional, and closer Chase Wellbrock threw a combined 4.1 innings of scoreless baseball.
Lost in the disappointing series for UH will be the incredible performance by Josh Vidales. After a three-hit day yesterday, he added three more today. Connor Hollis and Caleb Barker chipped in with two hits each, but again, it was all for naught.
In Omaha, the Longhorns will meet the winner of the Stillwater Super Regional between Oklahoma State and UC-Irvine. The Anteaters currently lead that series 1-0.