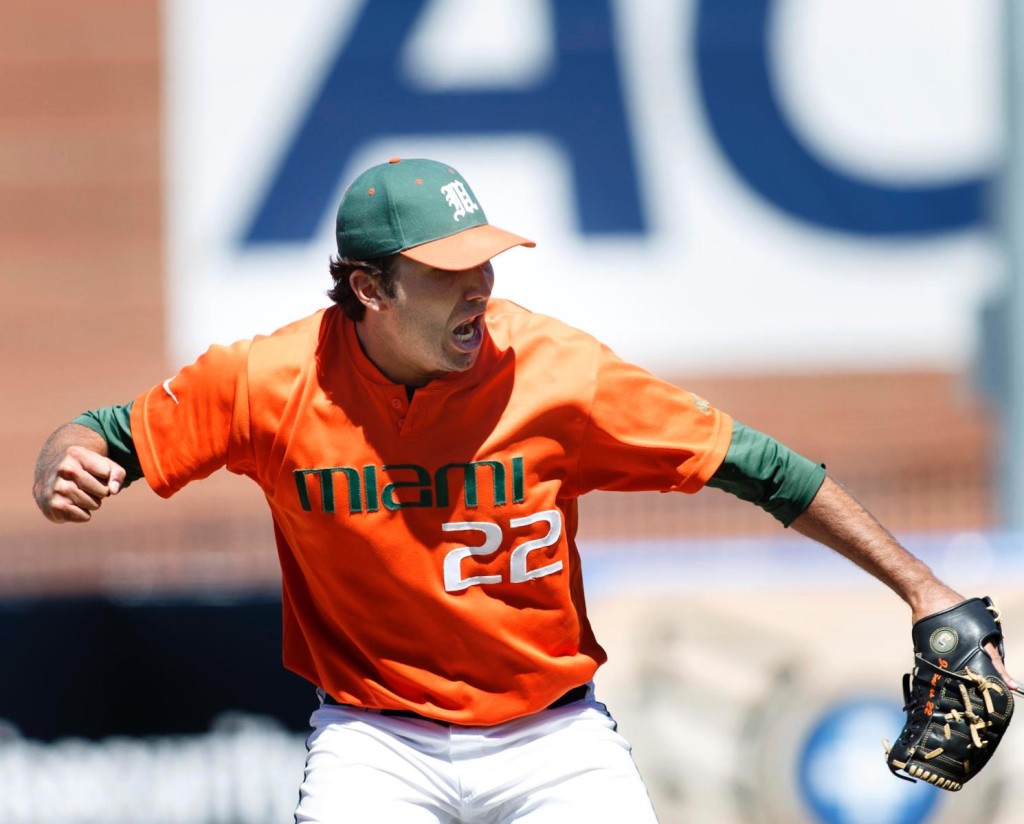 Day five of the ACC tournament saw the Miami Hurricanes squeak by the Duke Blue Devils in 12 innings to avoid losing all three games in pool play. North Carolina used a late offensive outburst to bury the Maryland Terrapins, as they finished 2-2 in the ACC tournament.
After dropping their first two Pool A games in close fashion, the Hurricanes pulled out a 6-5 victory against the Blue Devils. Miami started out strong, scoring two runs in the first inning on a balk and a double by Willie Abreu after singles from Dale Carey and David Thompson. Canes starter Bryan Radziewski went 5.2 innings, allowing two runs on six hits and four walks, while striking out six.
Duke clawed back in the 9th inning to tie the game. Freshman closer Bryan Garcia entered with a runner on first and no outs. Pinch hitter Cristian Perez greeted him with a two-run shot to left, his first home run of the season. However, Jacob Heyward would come through with a double in the top of the 12th inning, his third hit of the day. Zack Collins then slammed his 9th home run of the season to give the Canes a 6-4 lead, and they would hang on in the bottom half of the 12th.
A win would have brought Duke to their first ACC championship since the event began in 1973. Instead, they will wait to hear about their postseason fate till Monday when the selections are aired at noon. Duke is a long shot to make the tournament, while Miami is a virtual lock.
While UNC beat Maryland in a slugfest, Maryland will play Georgia Tech for the ACC title on Sunday, and the Tarheels will hope for an at-large bid. UNC scored four times in the 5th inning to stretch their lead to 7-2, but the Terps answered with five runs in the top of the 7th.
Tarheel starter Zac Gallen went six-plus innings, allowing four runs on seven hits and no walks, and striking out five. Trent Thornton came on in the 7th, but was unable to stem the bleeding, as he allowed three runs of his own. Fortunately for him, the Tarheels scored six times in the bottom of the 8th to break the game open. Skye Bolt rapped out three hits for UNC, including a double. Reilly Hovis extinguished a Terps rally in the 8th and got the final three outs in the 9th.
The depth of the ACC has been on full display in the conference tournament. The two teams playing in the title game on Sunday have a combined record in conference play of 29-30. Yet, the Terps downed the Virginia Cavaliers and the Florida State Seminoles on back-to-back days. Georgia Tech beat Wake Forest, Miami and the Clemson Tigers en route to the championship game.