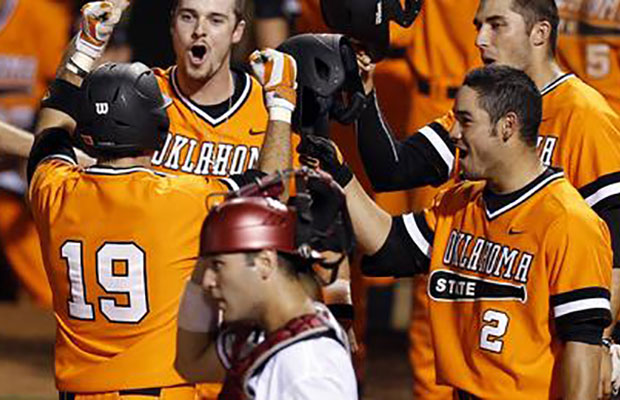 OKLAHOMA CITY, Okla. - Aaron Cornell hit a three-run, game-winning homer in the eighth that lifted No. 7 Oklahoma State to a late 11-8 win over Oklahoma in Bedlam at Bricktown Ballpark on Friday to advance to the Big 12 Conference Semifinals. Cornell had struck out in three of his prior four at bats before hitting the game winner.
Bryan Case hit a solo homer in the seventh and scored three runs on the day while Tanner Krietemeier scored a run and hit a two-run double for the Cowboys' offense on the day. Brendan McCurry pitched two scoreless innings to close out the game and earn his 17th save on the season in the win as the Cowboys ended the Sooners' season.
Nick Lewis allowed two earned runs over six innings of work to hold West Virginia in check while Baylor's offense found plenty of pop in a 9-4 win to advance to the Big 12 Conference Semifinals. Lewis struck out five and walked two and Doug Ashby allowed two earned runs over the final three innings to get his first save of the season.
Brett Doe went 2-for-4 with a pair of RBI and hit a game-tying solo homer in the fourth while Aaron Dodson also went 2-for-4 with a solo-shot in the fifth to take the lead for the Bears. After the Mountaineers tied the game the Bears plated five runs in the seventh on three WVU errors to take the 7-2 lead that would not be relinquished to eliminate WVU.
Both teams will be forced to win a double-header on Saturday to play for the Big 12 Championship. Oklahoma State is the tournament's top seed but will have to defeat the four-seed, No. 20 Texas twice to advance while Baylor will have to knock off the two-seed No. 19 Texas Christian twice to advance.