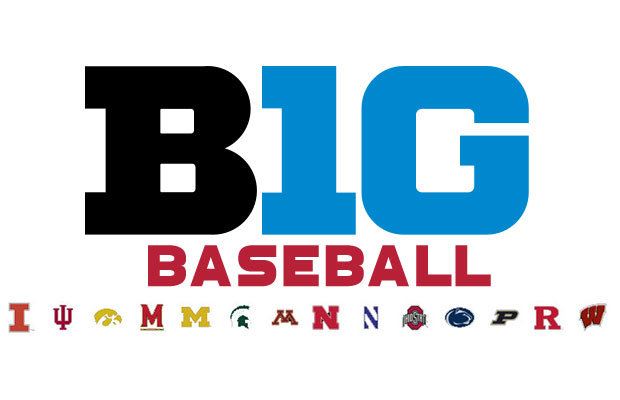 The start of the 2015 college baseball season is just around the corner and it's time to start taking a look at what we can expect in the upcoming campaign.
Over the next few weeks, there will be countless season previews produced, but the goal with the previews for CBC is to make them a little different. Rather than previewing team-by-team or predicting the order of finish, this preview will hit some highlights, take a dip into the obscure, and give you a couple of names to watch for in 2015.
Next, we'll move on to the Big Ten.
The Favorite: Maryland Terrapins
Finding a favorite in the Big Ten was a difficult task. For starters, the league is as talented as it has been in a long, long time. This is no longer an also-ran baseball conference. There is also a lot of parity within the conference, as it could easily end up being a three, four, or even five-bid league when it's all said and done.
Ultimately, the Terrapins, newcomers to the league, stick out as a slight favorite.
Last season, they reached heights not seen before in College Park, as they went 40-23, received an at-large berth into the NCAA tournament, and made it all the way to the super regionals, where they were eliminated by eventual national runner-up Virginia.
Heading into 2015, the Terps have a chance to be just as good.
A great deal of their core returns, most notably starting pitchers Mike Shawaryn (11-4, 3.12), Jake Drossner (4-1, 2.45), and Zach Morris (2-1, 2.77). Last year's staff ace, Jake Stinnett, is gone, but head coach John Szefc has to feel good about Morris stepping into a bigger role. In the bullpen, closer Kevin Mooney (4.33, 13 SV) is back, as is the reliable Alex Robinson (2.87) and versatile swingman Bobby Ruse (3.52).
Offensively, the losses of sparkplugs Blake Schmit and Charlie White will hurt, but the cupboard is far from bare. Brandon Lowe (.348 BA, .464 OBP, 12 doubles, 42 RBI) will likely be the one to make the offense go. He may not be a prolific base stealer like Schmit or White, but he gets on base at an outstanding clip and he has flashed some extra-base pop. The returning Jose Cuas (.279 BA, 13 doubles, 5 HR, 42 RBI) will be expected to provide the punch in the middle of the order. If he can hit for a little more average this season and get on base a little more consistently, the Maryland offense may not miss a beat from where they were last season.
Not that any team really needs a ton of extra motivation to go out and play well, but this program will be eager to prove that they are not just one-hit wonders after their success last season. It may not be the gauntlet that ACC play can be, but the Big Ten regular season will test the Terrapins week after week. Don't bet against them standing on top of the heap by the time the dust has settled.
Storyline to Follow: How many Big Ten teams get into the NCAA tournament?
There's no doubting that the level of play in the Big Ten has improved substantially over the last several years. That has taken the league from being mostly a one-bid league to a league that has started to get multiple teams into the field more consistently.
As alluded to, the Big Ten has a shot to be a three, four, or even five-bid league this season. Are they likely to get more than, say, three teams in? No, but is there the talent around the league to do so? Absolutely.
Getting Maryland into the league helps, and they've already been discussed. Nebraska, a regional team from last season, is also likely to be in the mix. They return a number of key pieces from last year's team, including starting pitcher Chance Sinclair (9-1, 2.15), closer Josh Roeder (3.10, 12 SV), and 2014 freshman phenom Ryan Boldt (.311, .382, 12 doubles, 6 triples, 31 RBI).
Illinois, who was probably just a few wins away from getting in last season, returns almost literally everyone, including closer Tyler Jay (1.94, 10 SV), who pitched on Collegiate Team USA this past season, their entire starting rotation of Kevin Duchene (4-1, 1.80), Drasen Johnson (5-7, 2.91), and John Kravetz (6-1, 3.00), and a litany of reliable bats such as Adam Walton (.329 BA, .380 OBP, 13 SB), Jason Goldstein (.316 BA, .370 OBP, 11 doubles), and Casey Fletcher (.308 BA, .385 OBP, 6 HR).
Don't write off Indiana, either. Sure, they lost their head coach, Tracy Smith, to Arizona State and the likes of Kyle Schwarber, Sam Travis, Dustin DeMuth, and Joey DeNato to pro ball, but it's not like that roster is suddenly devoid of talent. Scott Donley (.324 BA, .379 OBP, 16 doubles, 5 HR, 47 RBI) and Brad Hartong (.313 BA, 11 doubles, 36 RBI) return on offense, and a pitching staff led by starting pitcher Christian Morris (6-3, 2.04) and relievers Thomas Belcher (1.91, 4 SV), Scott Effross (1.98, 5 SV), and Ryan Halstead (2.89, 11 SV in 2013 before missing 2014 with an injury) will go a long way toward giving the Hoosiers a fighting chance at getting back into the postseason.
Although they perhaps fell a little short of expectations in 2014, it would be silly to give up on a team with as much talent as Michigan. The returning Travis Maezes (.302 BA, .413 OBP, 18 doubles, 4 triples, 19 SB) and Evan Hill (5-6, 3.24) are both highly-regarded MLB draft prospects and Jackson Glines (.332 BA, .444 OBP, 19 doubles, 43 RBI, 14 SB) and Jacob Cronenworth (.268 BA, .391 OBP, 19 SB, 1.75, 12 SV) will look to build off of fantastic seasons in 2014.
Seeing this group of teams jockey for position all season is going to be a lot of fun.
Player to Watch: Travis Maezes, SS, Michigan
As discussed previously, Maezes is among the cream of the crop when it comes to MLB draft prospects in the Big Ten. Prior to last season, Baseball America named him the third-best prospect in the Big Ten for the 2015 draft after a freshman season spent hitting .313 with 10 doubles, three triples, three home runs, 44 RBI, and 14 stolen bases.
Nothing he did for an encore last season will change anyone's mind about his potential, as he increased his power and baserunning numbers across the board. There were concerns about how well he would hold down the shortstop position for the maize and blue, but so far, he has at least shown the ability to be a very solid gloveman over there.
Beyond that, Maezes might mean more to his team than any other player does to any other team in the league. If Maezes takes another step forward, which is entirely possible, Michigan has to feel good about its chances to be right in the thick of the conversation for a berth in the NCAA tournament.
Honorable mention here goes to Michigan State oufielder Cameron Gibson. The son of former big leaguer Kirk Gibson hasn't put up gaudy numbers or been given the attention that some of the Big Ten's other draft prospects have, but he'll be fun to watch in 2015. He already has plus-plus speed, he's shown an ability to hit for some average, and he has the overall athleticism to have a breakout season for the Spartans.
Storyline That May Only Interest Me
Don't look now, but it has been a while since we've seen Ohio State in the postseason. It's been since 2009, as a matter of fact. For a program that has historically been one of the more consistent in the league, particularly during the 90s and 00s, that's a long time.
When Bob Todd retired after the 2010 season, he had taken the Buckeyes to the NCAA tournament in six of the previous ten seasons. Greg Beals, who had been the head coach at Ball State, took over the program and the hope was that it would be a seamless transition. It has been anything but seamless, however, as Beals' teams have struggled to stay out of the middle of the Big Ten pack. Only in their 2013 season did the team finish more than two games over .500 in Big Ten play and win more than 35 games overall.
Some of their dry spell can be blamed on the rest of the Big Ten getting better. It's probably not a complete coincidence that Ohio State's decline in quality of play has coincided with Indiana's rise and the introduction of Nebraska to the conference.
But, at the same time, that's the way it goes, and the onus is on Beals and his staff to elevate the level of play to meet the tough task.
With some quality players returning, most notably Ronnie Dawson (.337 BA, 10 doubles, 10 SB), Troy Kuhn (.290 BA, 14 doubles, 6 HR, 35 RBI), Tanner Tully (6-3, 2.22), and Travis Lakins (2.45), it will be interesting to see if Ohio State can surprise and fight their way into postseason contention.
One More Thing
Often we see a big jump from programs who have coaches in their second season. The first season is usually all about changing a program's culture and shaping the roster in the new coach's image, and if a solid foundation is laid in that first season, we see the lightbulb go on in the second season.
Both Penn State and Iowa, who had up and down seasons under first year coaches, Rob Cooper and Rick Heller, respectively, will be hoping their teams have lightbulb moments in 2015. Given the pedigrees of both coaches and flashes their teams showed in year one, fans of those programs couldn't be blamed for being excited about what the new season holds.