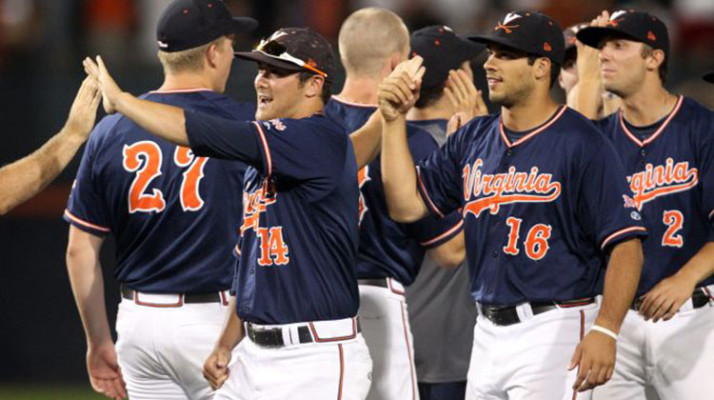 Don't look now, but the start of the 2015 season is just around the corner and it's time to start taking a look at what we can expect in the upcoming campaign.
Over the next few weeks, there will be countless season previews produced, but the goal with the previews for CBC is to make them a little different. Rather than previewing team-by-team or predicting the order of finish, this preview will hit some highlights, take a dip into the obscure, and give you a couple of names to watch for in 2015.
We'll start with the ACC.
The Favorite: Virginia Cavaliers
Finding a favorite for some conferences may end up being a chore, but that was certainly not the case with the ACC, as the Virginia Cavaliers are the clear class of the league going into 2015.
The pitching staff, as has been the case with the Cavaliers for some time, will likely lead the way. They return a trio of starters in Nathan Kirby (9-3, 2.06), Brandon Waddell (10-3, 2.45), and Josh Sborz (6-4, 2.92). Those three alone should win the team a fair share of games. In the bullpen, they return a couple of dependable arms in Connor Jones and David Rosenberger.
Offensively, Virginia will be happy to have back do-everything lineup stalwart Joe McCarthy, along with a steady contributor in Kenny Towns. Expect John LaPrise, who hit .348 in 46 starts last season and carried the offense through the regionals and super regionals, to have a huge year in full-time duty.
That's not to say that there isn't talent to replace in Charlottesville. Versatile pitcher Artie Lewicki is gone, as is the rubber-armed Whit Mayberry and closer Nick Howard. Offensively, the losses are even bigger. Gone are Mike Papi, Branden Cogswell, Brandon Downes, Derek Fisher, and Howard (who played both ways).
The safe bet is on the Cavaliers dealing with those losses well, however, not only because head coach Brian O'Connor has earned the benefit of the doubt, but also because the program has a top-ten recruiting class on campus. Surely some of those talented new faces will fill some of the shoes that need filling.
Storyline to Follow: How will Louisville acclimate to the ACC?
Louisville has been one of the more consistent programs in college baseball over the last eight seasons. During that time, they have only missed out on the postseason once (2011) and they have made the College World Series three times.
In 2015, though, they will face a new challenge as they take part in their first season as a member of the ACC. The Big East and American Athletic Conference, their previous conferences, were pretty good baseball leagues, but the ACC is on a different level altogether.
The Cardinals will have to face the league after dealing with some losses both in the lineup (AAC POY Jeff Gardner, Cole Sturgeon, Grant Kay, Alex Chittenden) and in the bullpen (Nick Burdi, Kyle McGrath, Sturgeon), but their starting rotation of Kyle Funkhouser (13-3, 1.94), Jared Ruxer (7-1, 2.27), and Anthony Kidston (9-1, 3.40) should help them cope with that turnover.
A more vigorous regular season may hurt the Cardinals' regular season record, and in turn their chances to host as regularly as they are used to, but their recent success in postseason play against powerhouse teams from conferences all over the country shows that this program, under head coach Dan McDonnell, will be just fine in the ACC.
Player to Watch: Michael Matuella, P, Duke
You can be forgiven if Matuella isn't someone you are overly familiar with at this stage. After all, his Duke program has been unable to elevate itself beyond a mid-tier ACC program during his career, and his numbers on the surface level haven't been all that eye-catching.
MLB scouts, however, are very familiar with Matuella, as he is expected to be among the first players off the board in the 2015 MLB draft.
The righty fits a profile that makes scouts salivate. He has an ideal frame at 6'6″ and 225 pounds, and his fastball sits in the mid-90s.
On the field for the Blue Devils, things have been up-and-down. As a freshman, he went 4-4 with a 4.53 ERA, pitching in just nine games, including only two starts. As a sophomore, he started all 11 games in which he appeared, going 1-3 with a 2.87 ERA. Those numbers don't really jump off the page, either, but his peripheral stats do. In 2014, he struck out 69 batters and walked just 15 in 58.1 innings. Opposing batters also hit just .190 against him.
It wasn't all positive in 2014, however. A lat strain forced him to miss some time and upon his return, he was put on a strict pitch count, which limited the number of innings he could throw. Later in the year, while investigating continued issues with his lat, it was determined that Matuella suffers from a condition called spondylolysis, which, according to NYU's Spine Center, affects "the intervertebral discs and the vertebral facet joints" of the spine. While the condition is manageable, there are certain to be questions about how it will affect him on the mound.
Given their heavy losses on offense, it is highly unlikely, but it would be a lot of fun if Matuella, along with rotation mates Andrew Istler and Trent Swart, had a huge season and helped get Duke into the postseason for the first time since 1961.
Storyline That May Only Interest Me
When Mik Aoki took over the Notre Dame program prior to the 2011 season, there was hope that he could get the Fighting Irish turned around like he had done for the Boston College Eagles. In his four seasons in Boston, Aoki led the Eagles to a 114-108-1 record and a trip to the regionals in 2009.
If that sounds less than impressive, consider what the BC program hadsdone since Aoki left for South Bend. Going from 2011 to 2014, the Eagles have put together overall records of 17-33, 21-34, 12-40, and 22-33.
Unfortunately for the Irish, it just hasn't gone according to plan. Aoki led the team to winning records in 2012 and 2013, but they came crashing back to the earth in 2014 with a 22-31 mark. Sure, a season spent as transients thanks to work being done on their home stadium didn't do the team any favors, but as valid as that excuse is for some of their poor play, it doesn't do anything to silence critics that are eager for the program to return to the heights they saw under Paul Mainieri.
Aoki will have his work cut out for him in 2015 once again, as he will be without departed pitchers Scott Kerrigan, Sean Fitzgerald, Pat Connaughton, and Donnie Hissa. Those four were a huge part of a pitching staff that had a 3.05 staff ERA last season.
If they are going to make a run, it will likely be because the offense stepped up and carried more of their own weight. Last season, they hit just .245 as a group with a .328 slugging percentage. They simply have to be better, particularly in the face of all of those pitching staff departures.
One More Thing
It will be interesting to see how the middle of the ACC shakes out. Virginia may very well be in a class by themselves at the top, but behind them, there is a group made up of Miami, Florida State, and Louisville. Those are all teams that have aspirations of hosting a regional come June, but it's unlikely that all three, along with Virginia, will end up doing so.
A little further down, you have a group that includes North Carolina, Georgia Tech, and Clemson. Chances are one of those teams is better than we think, but which one will it be?
Then, you have everyone else. Chances are one of the teams at the bottom will surprise and make a nice run, but at this point, it's anyone's guess who that will be. North Carolina State has the talent, but they were largely unimpressive last season and they lost a lot of key pieces from that team. Duke has the pitching to do so, as discussed, but they turned over almost their entire lineup.
Pitt had some nice seasons in their last few years in the Big East, but their first season in the ACC was rough. Virginia Tech was rebuilding in 2013 after a nice run under Pete Hughes, but how will new head coach Pat Mason affect their timeline for getting back to the postseason? Only time will tell for this group of hopeful programs.