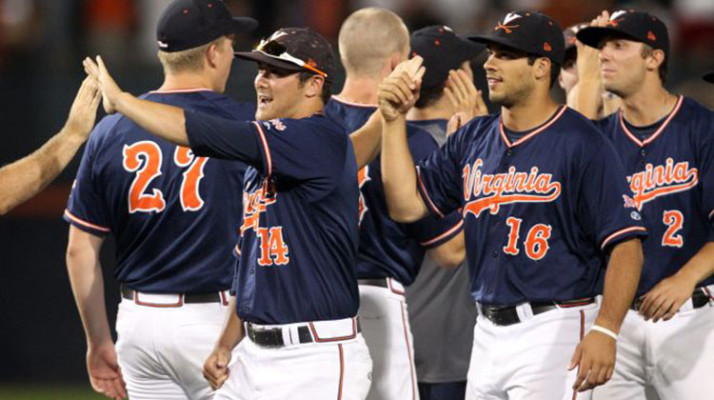 OMAHA, Neb. – Prior to Brian O'Connor's arrival in 2004, the Virginia Cavaliers baseball program was a far cry from its current status as a perennial contender, having made the postseason on just three occasions dating back to the inception of the NCAA Tournament in 1947. When O'Connor took over for Dennis Womack, the Cavaliers embarked on a journey away from their basement status to that of national prominence, as the Hoos have visited the postseason in each of O'Connor's 11 seasons at the helm of this program.
For the first time in program history, the Cavaliers made the coveted trip to Omaha in 2009, but faced a second round ouster. After an opening round loss to LSU, the Cavaliers rebounded with a 7-5 triumph over Cal State Fullerton in the loser's bracket, but were subsequently ousted by Arkansas in the second loser's bracket matchup. Two years later, Virginia made their second appearance in Omaha, this time making it to the semifinals where they suffered a 3-2 defeat at the hands of eventual national champion South Carolina.
Last season, Virginia hosted the Charlottesville Super Regional after sweeping through regional play with ease, but a hard-charging Mississippi State team rolled through and defeated the Cavaliers in two games to advance to the College World Series, where they would finish runners-up to UCLA in the championship series. This time around, the Cavaliers have advanced to Omaha with perhaps one of their strongest teams in recent memory, and as such, are intent on bringing that first national title back to Charlottesville.
Virginia Cavaliers
Atlantic Coast Conference
Overall: 49-14 – Conference: 22-8
Head Coach: Brian O'Connor (11th Year)
CWS Appearances: 3 (2009, 2011, 2014)
---
2014 College World Series – Virginia's Road to Omaha
Throughout much of the regular season, the Cavaliers sat atop the college baseball pinnacle as one of the stronger teams in the country. Virginia did not drop a single series all season long until their final weekend series, a three-game set at Wake Forest. After dropping two of three to the Demon Deacons, the Cavaliers followed with a 1-2 showing at the ACC Tournament, where they were dealt an early exit by Florida State, as the Seminoles staged a late-inning rally to oust the Cavaliers by a 6-4 final score.
Nevertheless, the Cavaliers dusted off their shoulders and responded quite nicely in the Charlottesville Regional, taking a clean sweep of the competition. After taking an easy 10-1 victory against Bucknell in the regional opener, the Cavaliers took a 3-0 victory over Arkansas behind a Nathan Kirby gem, only to down the Razorbacks once again in the final, a 9-2 final score commissioned by Derek Fisher's 4 RBI performance.
For the fifth time in six years, the Cavaliers advanced to super regional play, as Davenport Field would welcome conference rival Maryland for a best of three series. The Terrapins took the early advantage in the opener, as a three-run fourth proved to be the dagger in a game that saw a less than thrilling pitching duel between Kirby and Jake Stinnett.
With the 5-4 victory in game one, the Terrapins were on the verge of making their first-ever trip to Omaha, but the Cavaliers offense would have none of it in game two, plating five runs on 12 hits off Mike Shawaryn, while Brandon Waddell and Artie Lewicki held the Maryland lineup at bay en route to a 7-3 triumph.
In the Charlottesville Super Regional final, the evening belonged to Cavaliers starter Josh Sborz. The sophomore right-hander was on point all evening, utilizing an electric heater that touched 95 mph and a nasty slider across seven scoreless innings of work. All the while, the Virginia lineup certainly brought their bats to the show, as eight of nine starters collected a hit, including Kenny Towns' 3-for-4, 4 RBI performance. The 11-2 victory propelled the Cavaliers into their third College World Series in six years, where they will take on Ole Miss in the opener.
At the Plate
This offense has plenty of weapons from top to bottom, highlighted by a pair of first-rounders in Mike Papi and Derek Fisher. Papi boasts a powerful bat, but that bat does not compromise his patient, disciplined approach at the plate, wherein he knows how to hit and make the best out of his at-bats – and more likely that not he will see pitches, as the dangerous bats of Fisher and Joe McCarthy follow suit. Fisher is perhaps the most impressive athlete in this lineup, as he display pop, hitting ability, and speed, while McCarthy is an all-around threat at the plate who currently paces the offense in hits (71), doubles (14), and stolen bases (11).
Brandon Downes is a slugger who can make you pay if you make a mistake, who despite a .233 average can open up a game with his powerful bat. Kenny Towns and John La Prise have been big at the plate as of late and guys who will give it their all. Branden Cogswell can drive the gaps with ease and knows how to work a count with the best of them, and is the best representative of what this offense does best – they work the plate well, collect extra-base hits, extend plays, and are good base runners. All in all, this team is well balanced and is full of multi-faceted talent, which makes this team a favorite to take it all in Omaha.
On the Mound
When your No. 4 starter (Josh Sborz) is a potential first-round pick next year and works with the type of stuff that he does, that is a tell tale sign of a strong starting rotation. At the front of the rotation are a pair of southpaws who are proven winners and one of the stronger 1-2 punches in the country.
Kirby is an impressive talent who employs electric stuff and has a good feel for an advanced three-pitch mix, as he throws strikes and can overpower opposing offenses with ease. Alongside Kirby is last year's Friday night starter, Brandon Waddell, who knows how to pitch with the best of them and displays great command.
Behind the two left-handers is a pair of right-handers, that of Artie Lewicki, a senior who flashes mid-90s velocity and is a former bullpen stalwart, and Josh Sborz, a sophomore whose stuff continues to get better with each passing start. While the rotation is impressive, the registry of arms in the bullpen is not too shabby. Nick Howard is the anchor of the bullpen and for good reason, as the 19th overall pick in this year's draft boasts a mid to upper-90s fastball and is a lockdown type closer.
Whit Mayberry is a seasoned senior who works very effectively as a long-reliever, while Austin Young brings a strong right-handed arm. Connor Jones has great talent for a freshman, but has struggled with command recently – if Jones can turn things around, and the coaching staff trusts the young reliever, he will add even more depth to an already strong core of seasoned arms.
Key Player to Watch
To limit the Cavaliers to a single key player is rather difficult, as this team has a number of talented cogs in the machine that has been this team's success. But one name sticks out above the rest and that is Nathan Kirby, who has been lights out throughout the season, a dazzling season that has seen this sophomore toss a no-hitter and pace his staff with a 1.73 ERA, 104 innings pitched, 104 strikeouts, and .182 BAA.
Kirby was dazzling in his regional start against Arkansas, but was lackluster in his most recent outing against Maryland. Virginia will need another dazzler from Kirby to set the tone in Omaha and we all know he's tossed plenty and has plenty more to toss.
What to Expect
This Virginia team continues to play better and better with each passing game, and that determination (let along the talent that dwells both at the plate and on the mound) should take them places in Omaha. They arguably have the best all-around, seasoned team in this field of eight and will be a tough competitor. The keys to a successful run for Virginia in Omaha require consistent pitching, offensive support from all over the lineup, and a focused determination – which is essentially the proper prescription for any team aiming at a national title. Look out for this team, they may just be the team to win it all.