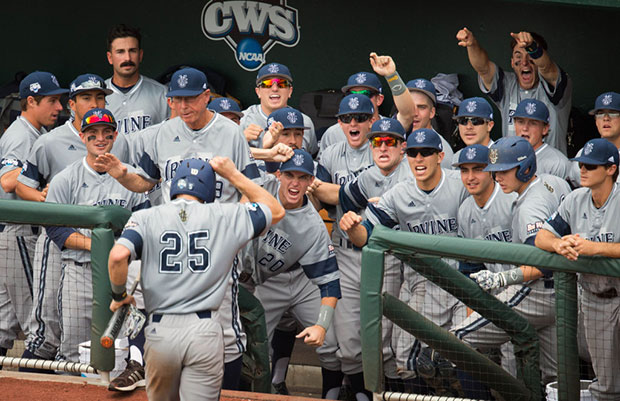 OMAHA, Neb. –  UC Irvine and Vanderbilt each used a three-run, big inning to grab wins in Games 1 and 2 of the 2014 College World Series. Both teams got key hits in the innings and scored in unexpected ways to get to the winner's bracket for Monday's match-up at 7:00 PM central. Texas will face Louisville at 2:00 PM central with the loser leaving Omaha.
In Game 1, UC Irvine defeated Texas 3-1 in what promised to be a festival of small ball but instead the game was decided when Anteaters' head coach Mike Gillespie chose against the strategy in a tie game in the eighth inning with one out and Taylor Sparks at third base.
Sparks had just drove a triple to the gap in left that scored Adam Alacantra with the game-tying run. Sparks talked about his approach, "The wind was really howling in, so I knew anything I lifted, it wasn't going anywhere." Yet Sparks was able to drive a ball deep, "I just tried to stay flat with that and was able to travel through the gap."
Chris Rabago stepped to the plate and slapped a ball to center field, which was quite opposite what Texas head coach Augie Garrido expected, "I'm surprised they didn't try to squeeze there because that would have been even more momentum that they took the risk."
Gillespie said that Garrido is part of the reason he chose to allow Rabago to hit away, "Part of the problem with the squeeze is that you don't always get a pitch to work with, and every once in a while some shrewd dirty rat like Augie might pitch out."
The Anteaters got a great performance out of Sparks who was main producer on offense with a 3-for-4 effort with a double, a triple, a run scored and an RBI. "Taylor Sparks had a spectacular game, both on offense and on defense."
Andrew Morales didn't have his best stuff yet displayed fine pitching to get out of jams of UC Irvine while Nathan Thornhill worked through early struggle to get into the eighth inning scoreless. After both starters left the game the outcome would be in the hands of the bullpens.
Clutch relief pitching helped UC Irvine in the win as senior righty Evan Brock retired all seven Longhorns he faced to end their scoring threat in the seventh and then close the door for the remaining two at bats.
"I haven't had much bullpen experience, at least this year, but definitely my adrenaline was pumping today, so I mean, it was a big game," said Brock of the emotion he brought to the mound in crunch time.
Brock struck out the final three Longhorns he faced, including key hitter Mark Payton who saw his streak of 101 consecutive games reaching base come to an end. "So what? We lost. It's something I didn't pay attention to," Payton said about the streak, "I think a lot of other people paid a lot more attention to it than I did. We lost so that's the end of it."
Gillespie said the key was UC Irvine's ability to keep runs off the board, "it made us possible to come back in the eighth."
The Anteaters are forging a new identity in this tournament, and for today, it keeps them in the winner's bracket, "There's a rumor that we squeeze. It's a myth," Gillespie said, "We're a big inning club."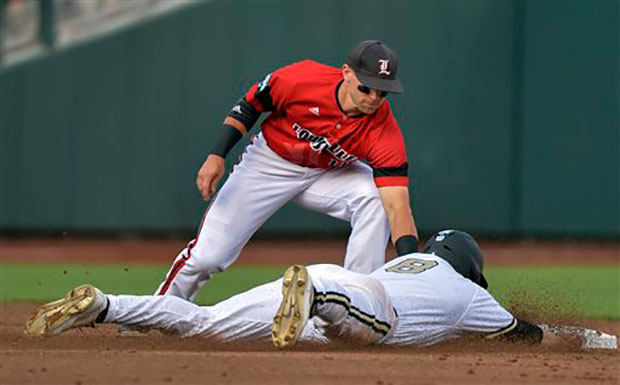 In Game 2, Vanderbilt scored runs in a variety of ways and got timely defensive plays to take the 5-3 win over Louisville in Game 2. The Commodores scored on a double, a triple, a wild pitch and a passed ball as they took advantage of an uncharacteristic start by Kyle Funkhouser in the winning effort.
The expected battle of aces between Vanderbilt's Tyler Beede and Louisville's Funkhouser never happened. Yes, Funkhouser pitched, but Commodores' head coach Tim Corbin chose to start Carson Fulmer instead.
"We wanted to match up the skill set of our pitcher to the skill set of Louisville," said Corbin of his decision to start Fulmer. "We thought we could contain the running game well. We thought he could contain the bunt game, and Louisville does get right on top of the plate. So you're pitching into a very small window and we thought he could execute that, and he did."
Fulmer pitched into the sixth inning allowing only two earned runs and left the game with the lead. On the other side, Funkhouser wasn't the usual sharp and stingy ace that Cardinals' fans have grown accustomed to issuing six walks and giving up six hits on the night while uncorking two wild pitches and a balk.
Vandy got to the sophomore righty in the second after he allowed two walks and a single with two outs and then unleashed his first wild pitch that allowed Commodores' center fielder John Norwood to score the games first run.
Dansby Swanson then drove a double to the gap in left that emptied the bases and gave Vanderbilt the early 3-0 lead. Swanson would have two hits on the day for Vanderbilt and would score a run in the fourth after an aggressive run on the base paths.
The sophomore second basemen drove a two-out single up the middle before stealing second and then advancing to third on Funkhouser's second wild pitch of the game. Mark Reynolds drove him in with a triple to the gap in right field to extend the lead to 4-0.
Many could say that Reynolds was the momentum man for the Commodores because of the catch of the day he made in the second inning. The Cardinals had Alex Chittenden on second, when Grant Kay drove a Fulmer delivery deep to left field. The Commodores' left fielder made a running leap into the wall to make the catch and end the inning taking what was sure to be Louisville's first run of the game off the scoreboard.
Vanderbilt would plate three in the home half of the inning to take the 3-0 lead.
"Any momentum swing in this tournament is a big deal, and runs are tough to come by," said Corbin of the turn of events. "We were fortunate in a lot of ways tonight."
Funkhouser expressed disappointment with his outing, "It's hard to win at the College World Series with a bad start and that's what that was tonight." Funkhouser said, "Coach has been saying it all year, two-out walks will kill you and that was the definition of it."
Louisville found itself in a hole and began digging out as a team, something the Cardinals have grown accustomed to doing all season, however, the typical Louisville attack just couldn't get all the way back.
Cardinals' Short stop Sutton Whiting slapped a triple down the line in right that scored Grant Kay and would later score on a groundout himself to pull Louisville with two. Clutch-man Nick Solak smacked an RBI single in the seventh to pull Louisville within 4-3.
But, Vanderbilt would get an insurance run off Louisville reliever Kyle McGrath on a walk, a single and a passed ball to extend the lead to 5-3. Vanderbilt scored a lot of runs set up by walks with Reynolds also leading the way with three walks on the night. Corbin noted its' been a team commitment of late, "We've done a good job the last quarter of the season getting deep into counts, more walks, less strikeouts, and we've hit the ball."
However, Vandy didn't hit the ball as well as they would have liked but were able to manufacture enough runs while capitalizing on miscues to pull out the win.
Corbin gave props to Funkhouser, "We hit O.K. tonight, but we were facing a tough customer."