OMAHA, Neb. — Possibly more so than any other team that will take the field in the 2014 College World Series, you know exactly what you are going to get with the UC-Irvine Anteaters. You know that they are going to pitch well, you know that they are going to scratch and claw for their runs, and you know that they are going to give 100% effort no matter the circumstances.
Although they have been consistently very good as a program over the last several years and they have come close to getting back to the College World Series, most notably in 2011, this will be the Anteaters first appearance in the CWS since that magical run in 2007 led by the likes of Ollie Linton, Scott Gorgen, Cody Cipriano, and Bryan Petersen.
2014 College World Series – UC-Irvine – How they got here
This impressive run to Omaha for UC-Irvine almost didn't get started at all. After being known as the class of the Big West Conference for much of the season, the Anteaters hit the skids late in the year, losing their last six regular season games, both sweeps at the hands of Cal State Fullerton and Long Beach State. While they were likely safely in all along, I'm sure there was a lot of tension in Irvine on Selection Monday. I like to think that UC-Irvine knew they were getting in and they just wanted to make sure more Big West teams made the field, as the sweeps for CSF and LBSU solidified each team's status as an at-large selection.
Once the field was announced, UCI was shipped up to Corvallis as the two seed matched up with host Oregon State, three seed UNLV, and four seed North Dakota State.
In their opener, they got a very un-UCI-like 10-2 win over UNLV. Only giving up two runs was expected, but ten runs is an outburst for a team that struggled for offense at times this season. The offense touched up Rebels starter John Richy for eight earned runs over 7.2 innings. Taylor Sparks led the way from the leadoff spot, with three hits and two runs scored. First baseman Connor Spencer chipped in with three RBI. Starter Andrew Morales was his typical self, throwing seven innings, giving up four hits, and three runs (two of them earned).
In their second game, against host Oregon State, the hit parade continued, this time in a 14-2 rout. Spencer had another big game, contributing three hits and two RBI. Right fielder Kris Paulino had two hits of his own, including an eighth-inning grand slam that really put the game on ice (more so than it already was). UCI starter Elliot Surrey was fantastic. He threw seven innings, giving up three hits and two earned runs with three walks and eight strikeouts. He never really let the OSU attack get off the ground.
On Sunday, by virtue of starting off 2-0, they awaited the winner of the early-afternoon elimination game. That turned out to be Oregon State and this game between the two was more of what we expected from the start. The Beavers turned in a 4-0 win. OSU starter Scott Schultz gave his team just what they needed. He threw a complete game, giving up just two hits with two walks and four strikeouts. Although UCI had been a good story thus far in the regional, it appeared that the world in Corvallis was righting itself.
But then head coach Mike Gillespie threw a wrench into OSU's super regional plans when he decided to bring back ace Andrew Morales on two days rest to start the deciding Monday game. Clearly running on fumes and not nearly as sharp as he was in game one, Morales still gutted out 4.1 solid innings, giving up just three hits and one earned run with one walk and five strikeouts. The real hero, though, was reliever Evan Manarino.
It would have been easy for UCI to fall apart when Morales clearly couldn't go any longer, but Manarino kept that from happening. He gave the team 3.1 innings of great relief, giving up just one run. At the back end, Saturday starter Elliot Surrey made another appearance and threw a scoreless ninth inning to get his first save of the season and close out UC-Irvine's 4-2 win that sent them to the Stillwater Super Regional.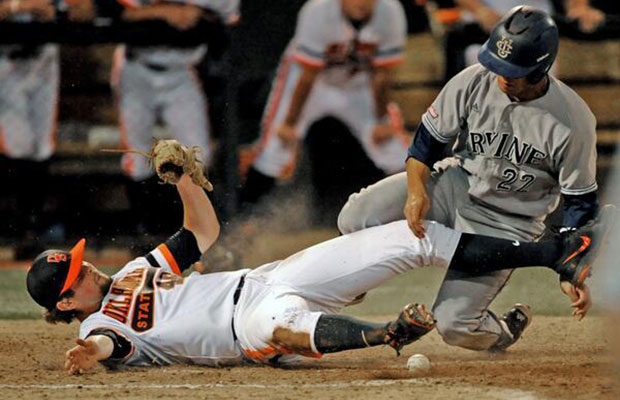 As good as they were in Corvallis, they were even better in Stillwater. Oklahoma State never had a chance to get anything going.
In game one, UCI won 8-4 and got most of their runs in typical Anteater fashion. On one play, they got two runs on an infield single and a misplay. Then they got two runs on wild pitches. Then they executed a squeeze bunt. Then they took a bases-loaded walk. And they topped it off with a double steal to bring home their last run.
Elliot Surrey set the tone of the weekend with his start. He threw seven innings, giving up five hits, two runs (neither earned) with two walks and five strikeouts. After Oklahoma State mounted a bit of a comeback with Mitch Merten on the mound, Manarino came out and shut the door over the last two innings.
The deciding win for UCI was a picture-perfect display of Anteater baseball. Andrew Morales threw a complete game shutout, giving up just five hits with two walks and eight strikeouts. The Eaters got a run in the first on a Jonathan Munoz double and little did they know then that it was all they would need to punch their ticket to Omaha.
What to expect in Omaha
As nice as it was to see them score some runs in their regional, the Anteaters will go as far as their pitching, specifically Morales, Surrey, and Manarino, will take them. With a couple of good offenses in Vanderbilt and Louisville on their side of the CWS bracket, they are going to have to pitch as they have all season. Although they likes of Connor Spencer and Jerry McClanahan have been pretty solid for them throughout the postseason, they just can't count on scoring more than a couple of runs each time out.
Their opening game is set for Saturday at 3:00 p.m. against the Texas Longhorns. UT is a team that is basically a mirror image of the Anteaters. If you're watching that game on Saturday, make sure not to blink because you might miss an inning or two. This game will feature lots of quick innings, lots of bunts, and very few runs. And neither team would have it any other way.