OMAHA, Neb. – Texas was an unlikely candidate for its' 35th College World Series appearance after finishing the regular season in fifth place in the Big 12 Conference with a 13-11 mark and limping down the stretch losing 8 of its' last 14 games, but after winning five of six in the NCAA Tournament, the Longhorns have their sights set on a seventh national title.
The Longhorns went 2-2 in their conference tournament losing back-to-back games to Oklahoma State after beating the Cowboys just two days before to stay in the winner's bracket for a third place finish overall.
Texas would find itself as the No. 2 seed in the Houston Regional but without one of its' top starters in junior Dillon Peters (7-3, 2.13 ERA, 53 K, 21 B, .247 OBA) who has missed the NCAA Tournament with an injury. Yet the Longhorns found themselves in the winner's bracket, having vanquished Regional Host Rice 3-2 and would square off in the Regional Final with Texas A&M after an 8-3 win over the Aggies to open the Regional.
Texas dropped a 3-2 decision to Texas A&M and the potential for a repeat of their Big 12 ouster weighed on their minds on their minds headed into a deciding game seven. Sophomore Chad Hollingsworth (3-0, 1.36 ERA, 1 CG, 1 SV, 23 K, 13 BB, .191 OBA), who was used in relief all season, threw a complete game in his first start of 2014, allowing only an unearned run in a 4-1 Longhorns win that advanced them to the Super Regionals.
After Louisiana State was upset by Houston, the Longhorns found themselves in the unlikely position of hosting a Super Regional in Austin, Texas against another in state foe. Even though Texas hosted the series a lot was being said of the pitching depth on the Cougars side of the hill, especially with Peters' absence, and many thought the Cougars would slip through Austin en route to the College World Series.
The Longhorns would not be deterred as senior Nathan Thornhill (8-2, 1.57 ERA, 1 CG, 2 SV, 59 K, 35 BB, .206 OBA), who along with senior Mark Payton (.326/.464/.467, 32 R, 38 RBI, 2 HR) was drafted in 2013 and chose to return to the program, had a solid outing in game one against the Cougars allowing two earned runs over seven innings before sophomore John Curtiss (2-2, 2.06 ERA, 9 SV, 28 K, 14 BB, .199 OBA) shut the door on Houston over the last two innings for the save.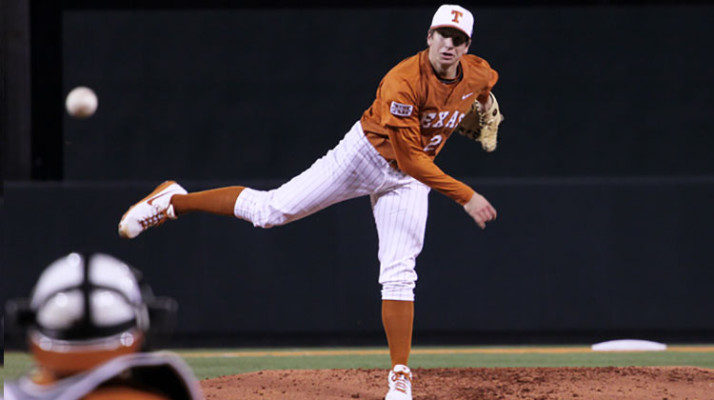 Parker French (6-5, 2.45 ERA, 1 SV, 59 K, 39 BB, .237 OBA) combined with three relievers to shut out Houston in game two as the Longhorns pulled off the sweep to advance to Omaha.
Payton would be the offensive spark plug for Texas going 4-for-7 with a two-run homer in the first inning of game one before scoring the first run of game two on a C.J. Hinojosa single after drawing a walk in the fourth inning.
Texas heads to Omaha with hopes of notching its' seventh national title and its' first since 2005. The Longhorns have appeared in the College World Series twice since their last title finishing as the national runner-up in 2009. Texas faces UC Irvine in Game 1 of the College World Series at 3:00 PM eastern on Saturday before facing either Louisville or Vanderbilt on Monday.
2014 College World Series – Texas (43-19)
The Longhorns strength this season has been its' pitching staff which heads to Omaha with a 2.32 ERA ranked third best among teams headed to Omaha while the Longhorns' 1.20 WHIP is fifth best. Texas isn't a big strike out team averaging only 5.7 per nine innings but does keep runners off base and away from the plate.
Thornhill and French will more than likely start games one and two for Texas in Omaha but with the amazing performance that Hollingsworth put together against Texas A&M he may be at least making a question of whether himself or Lukas Schiraldi (7-3, 4.08 ERA, 35 K, 39 BB, .246) would get a game three start.
Schiraldi had been the fourth starter before Peters' injury but lasted only three and one-third innings before being pulled in the Longhorns' loss to the Aggies having allowed two runs, one earned with a runner on second.
With Hollingsworth available for a potential start if Texas finds itself in the loser's bracket, Travis Duke (2-1, 0.34 ERA, 22 K, 7 BB, .216 OBA) continues to be a solid pen option for Texas with three post-season appearances allowing an earned run over 5.2 innings. Morgan Cooper (4-2, 2.98 ERA, 3 SV, 36 K, 8 BB, .241 OBA) who has allowed no earned runs in three tournament pen appearances over 2.2 innings of work. Ty Culbreath (2-0, 1.98 ERA, 20 K, 18 BB, .176 OBA) is also an available and capable pen arm for the Longhorns.
The end game for the Longhorns is John Curtiss (2-2, 2.06 ERA, 9 SV, 28 K, 14 BB, .199 OBA) who is the closer and has pitched shut down ball in the post season allowing no earned runs over seven innings pitched with a win and a save.
The question for the Longhorns in Omaha will be their hitting, which in Omaha as we've seen in the past, its' really only important to score one more run than your opponent and with Texas' staff being a solid as it is, the Longhorns may not need to score a lot to win.
Payton has led the offense in the post-season just as he was a central piece in the regular season and I expect his production to be pivotal to the Longhorns run for seven titles. Payton is the Longhorns' best on-base threat with 55 walks and 22 extra-base-hits leading the team in both categories. He's also got wheels with 19 steals on 20 attempts while striking out in less than eight percent of his plate appearances.
Texas also needs lead-off man Brooks Marlow (.279/.385/.392, 39 R, 19 RBI, 3 HR) on base for the offense to click and he seems to get that done with 44 walks on the year. Marlow is 7-for-25 with two runs scored and two driven in so far in the tournament.
Ben Johnson (.271/.424/.372, 45 R, 32 RBI, 6 HR) to do his job, which is get on base and score runs. Texas scores more when Johnson is getting on base and manufacturing runs with his legs, leading the team with 21 steals with Payton a close second with 19. Johnson has a tendency to strike out a lot having been struck out 43 times on the year and nine already this post-season.
Clean-up hitter Tres Barrera (.275/.419/.347, 31 R, 35 RBI, 5 HR) has been solid for the power bat in the lineup in the post-season going 7-for-24 with three doubles, and four RBI while scoring three times.
Overall, the Longhorns have the pitching to win in Omaha the question will be whether they can generate enough offense against a field that is equally potent on the mound to take home their seventh NCAA Championship title.