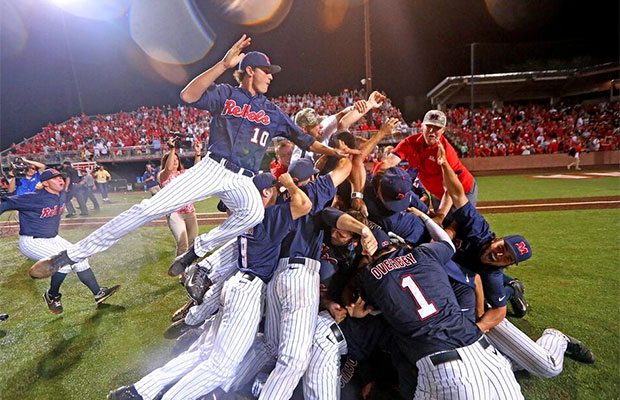 OMAHA, Neb. – When Mike Bianco took the reigns as the head coach of Ole Miss' baseball program in 2001, attendance at Oxford-University Stadium saw a total of 58,929 spectators take in a Rebels home game (an average of 1,900 per game). Fast forward 14 seasons and that number has increased to 271,920, with an average of 7,997 per game, a record for an individual season at the 25 year old facility in Oxford, Mississippi.
That steady increase in attendance lends credence to the rebirth of college baseball in Oxford throughout the tenure of Bianco, as the Rebels have reached the postseason in all but two of the seasons under Bianco's helm, after having made just seven total appearances in the NCAA Tournament prior to 2001, dating back to the start of the modern era in 1947 (two years removed from a two-year hiatus due to the Second World War).
In becoming a perennial SEC contender over the past decade, the Rebels have made their fair share of postseason runs, a number of which have ended in misfortune. After facing defeats in three straight super regionals between 2005 and 2007, the Rebels rebounded by hosting the 2009 Oxford Super Regional. A back and forth affair, the Rebels would ultimately fall to Virginia in three games and have since failed to advance past a regional – until now.
Ole Miss Rebels
Southeastern Conference
Overall: 46-19 – Conference: 19-11
Head Coach: Mike Bianco (14th Year)
CWS Appearances: 5 (1956, 1964, 1969, 1972, 2014)
---
2014 College World Series – Ole Miss Road to Omaha
The Rebels came out of the gates rather strong this season, winning 18 of their first 20 games. Despite losing mid-season weekend series' to conference rivals South Carolina, Alabama, and LSU, the Rebels were able to finish the regular season by winning four straight weekend series', which included a series against Arkansas at home and a pair of matchups against Kentucky and Texas A&M on the road.
At the SEC Tournament, the Rebels dropped their opener against Arkansas by a 2-1 score, but rebounded with a convincing 7-2 victory over Vanderbilt the following day to remain in contention. The Rebels followed up with a rematch of the Razorbacks, scoring six uncontested runs early in the game, but Sam Smith and company were unable to hold back a hard charging Arkansas offense, who ousted the Rebels with an eventual 8-7 win.
Nevertheless, Ole Miss buckled down and prepared to avenge their early exit from the conference tournament by hosting the Oxford Regional and sweeping the contest in relatively easy fashion.
The Rebels kicked things off with an offensive display in the regional opener against Jacksonville State, plating 12 runs on 17 hits en route to an eventual 12-2 victory. Staff ace Chris Ellis tossed a complete game, limiting the Gamecocks to just two runs en route to his 10th victory of the season, while Sikes Orvis shined at the plate, going 3-for-5 with 5 RBI that included a two-run blast in the sixth. Ole Miss followed with a narrow 2-1 victory in the winner's bracket matchup against Washington, who they would face in the regional final – a ten-inning affair decided on an Orvis RBI single in the top of the tenth, a 3-2 final score that propelled the Rebels to their first super regional in five seasons.
However, the Rebels would have to travel to Lafayette and take on one of the nation's stronger offenses in Louisiana-Lafayette before an electric crowd of Cajun faithful at Tigue Moore Field – a rather arduous task for any team hoping to advance to Omaha. And an arduous task it was indeed, as the Cajuns jumped on Ellis early in the going, chasing the Rebels' ace from the game in the third, an inning that saw the Cajuns plate five of their nine total runs en route to an eventual 9-5 victory.
Facing elimination and yet another super regional heartbreak, the Rebels stood strong in game two, breaking a 2-2 tie in the bottom of the eighth with three go-ahead runs en route to the 5-2 victory. Ole Miss starter Christian Trent turned in a strong outing, tossing seven innings of one-run ball, while Preston Overbey's solo shot in the eighth served as the dagger that kept the Rebels in contention.
In game three, the Rebels held a 6-4 lead over the Cajuns after eighth frames, but knowing the dangerous tendencies of the Louisiana offense, the Rebels staged a rally in the top of the ninth to put up four insurance runs, led behind Holt Perdzock's two-run double. Scott Weathersby and Josh Laxer kept the Louisiana lineup at bay in relief of Sam Smith and cemented a 10-4 victory for Ole Miss, who will now advance to Omaha for the first time in 42 years.
At the Plate
This Ole Miss lineup is one of the more potent offenses making the trip to Omaha. Top to bottom, they know how to hit. And when I mean hit, I mean hit for authority. The Rebels have slugged a combined 42 long balls this season, led by Sikes Orvis' 14 and an aggregate 18 from the trio of Allen, Anderson, and Bousfield. But it's not just about power with this lineup, as they are a seasoned group of hitters who have good at-bats, know how to get on base, drive the gaps, steal bases, and score runs.
At the top of the lineup is Braxton Lee, a speedster who knows how to get on base and command the base paths with authority. Behind Lee is potent string of heavy hitters, as the talented bats of Bousfield and Anderson precede the two power bats of Allen and Orvis. Bianco employs an aggressive approach that can overwhelm opposing pitchers and their defenses, as they constantly create pressure from patient at-bats, hit and runs plays, steals, and as such, they have a tendency to score often and plenty.
While getting it done at the plate, they also flash the leather in the field. Bousfield does everything right in the outfield, Anderson is a stalwart at the corner, Overbey and Robinson cover good ground up the middle, and Allen is a seasoned, reliable presence behind the dish. All in all, this is a seasoned lineup full of upperclassmen who have the talent and ability to outplay and outlast the competition in Omaha.
On the Mound
The Rebels do not have the kind of depth that other teams are privileged to work with in Omaha, but they have worked with the talent they do possess quite well throughout the postseason. Their rotation is limited to three primary starters, that of Chris Ellis, Christian Trent, and Sam Smith, all of who have made at least 16 starts and tossed over 90 innings this season. Ellis is a bona fide ace who pounds the zone with strikes, utilizing a low-90s heater that he can cut or sink with ease and a swing-and-miss changeup. He was chased from his last outing after 2 1/3 innings of work and will need to bounce back in the CWS opener against an aggressive Virginia lineup.
Trent has transitioned very nicely from JUCO ball and has been a force at the top of the rotation next to Ellis. He paces the rotation with a 2.21 ERA, 80 Ks, and .235 BAA and has been strong in postseason play, having held a rambunctious Louisiana offense at bay in his most recent outing. Smith has been inconsistent as of late, but he generates plenty of sink and induces ground ball outs.
As for the bullpen, Aaron Greenwood and Josh Laxer bring an aggressive, competitive presence to the mound. Greenwood is not an overpowering guy, but he employs a solid three-pitch mix, while Laxer is a bulldog who attacks with a mid-90s fastball and can be utilized as an effective closer. Jeremy Massie and Scott Weathersby have been consistent and know how to enter a game and limit the damage.
Key Player to Watch
Overall, Austen Anderson and Auston Bousfield may be the best players in the lineup, but the scariest bat belongs to Sikes Orvis. The junior first baseman has slugged the ball all season long, but is a seasoned hitter who displays patience at the dish and knows how to get on base, as he paces the team with 36 free passes, not to mention with 14 long balls and a .555 slugging percentage.
Orvis has served as one of the key cogs in the success of this lineup throughout the postseason (7-for-21, 5 R, 2 HR, 7 RBI, 4 BB) and is the centerpiece of a scary middle of the order. He is a pull hitter with plenty of power, so he'll have to be careful with the vast expanse of field at TD Ameritrade. Nevertheless, Orvis is a big game hitter and can open up a game with one swing of the bat.
What to Expect
After losing two front-line starters in Bobby Wahl and Mike Mayers, along with the leadership of catcher Stuart Turner, to the 2013 MLB Draft, the expectations for this season were not too high. Questions surrounded the ability of Chris Ellis to bounce back from an injury plagued sophomore campaign, the ability of Christian Trent to transition properly from JUCO ball, and whether key bats would step up.
Well, things turned out for the best. Ellis took over as staff ace and has flourished in that role, Trent took to Division I ball with ease, and key bats such as Anderson, Bousfield, and Orvis have stepped up to lead this team to their first College World Series in 42 years. Ole Miss will not only have to attack on offense, but also hold opposing offenses at bay early in the going in Omaha. The Rebels are carrying plenty of momentum from a tough opponent in Louisiana and as long as the bats and the bullpen arms stay fresh, Ole Miss may be a tough team to beat.